Some Quaker Resources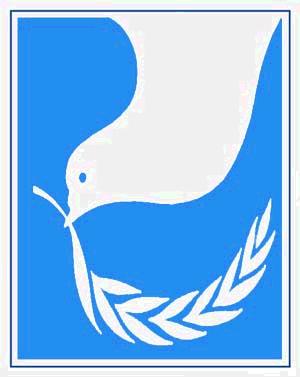 American Friends Service Committee

Friends National Committee on Legislation
College Park Quarterly Meeting

Friends World Committee For Consultation

Friends Committee On Legislation of California

---
CFM Library Catalog Online
---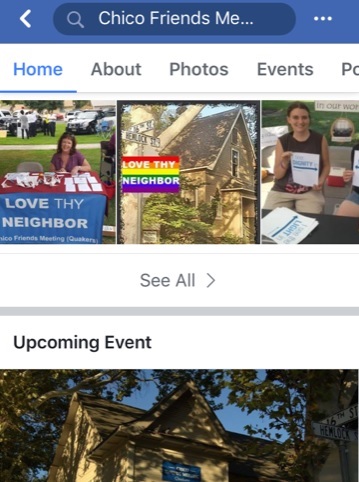 Visit CFM on Facebook
---
CFM Calendar Online
---
Read Our Monthly CFM Newsletter
---
Page updated 1/2/2019
~~~~~~~
Webmaster email:
chicofriendsonline@gmail.com
~~~~~~~~~~~~
Chico Friends Meeting

Quaker Thought & Life: 9:00-9:45 is CANCELED FOR 1-20-2019
*Singing: 9:45-10:15 am and Worship: 10:30-11:30 am as usual*
1601 Hemlock Street, Chico, CA 95928
Message phone: (530)345-3753 ~ Email: chicofriendsmeeting@gmail.com
~ ~ ~ ~ ~ ~ ~ ~ ~ ~ ~ ~ ~
Meeting for Worship:
Sundays 10:30 - 11:30am
Quaker Thought & Life 9:00 - 9:45
Singing: 9:45- 10:15 am
Children's Program & Childcare: 10:30 - 11:30 am
Announcements, then Social Time: 11:30am - 1:00pm

Wednesday Evenings
:
6:30 - 7:00pm Midweek Worship
7:00 - 8:00pm pm Quaker Exploration

Quaker Fund for People Affected by the Camp Fire in Northern California
Make checks payable to:
Chico Friends Meeting, and note "fire fund" in the memo line.
Mail to: Chico Friends Meeting, 1601 Hemlock Street, Chico CA 95928



Preliminary Statement on Intended Uses of the
Camp Fire Fund by Chico Friends Meeting


We intend to use our fire fund to aid those most affected by the fire and with least access to other means of support and assistance. As the community enters this next stage of recovery, we will focus on housing assistance. We will in particular seek ways to assist undocumented and low income people and families rebuilding their lives. We will consult and coordinate with other local groups, research arising needs, and seek to discern best use of fund resources as conditions become clearer. Throughout this process we will rely on the "promptings of love and truth" working in us and through our corporate Quaker practices as we move to action. We are mindful of the trust and responsibility present in the funds we receive from others as we, in Penn's words, "endeavor to mend" parts of this community in need. We will regularly report on our use of this fund on our website, and revise and focus this statement of intended use as we take up specific programs of assistance.
For additional info email our Clerk:

JAnderson@csuchico.edu
Chico Friends Meeting of the Religious Society of Friends, a Quaker Meeting, is an open and affirming faith community. We welcome all who come as religious seekers to share in worship and fully participate in the activities of our common life. The Religious Society of Friends cherishes a greater than 360-year tradition of witnessing to the spiritual belief in the equality of all people.
We are led to honor the gender identity and expression of each person, as determined by that person. We affirm that gender expression and identity may be fluid and changeable. We recognize that when we embrace the Light within the full spectrum of gender identities in our Meeting, our worship deepens and our community is enriched.

---
ABOUT CHICO FRIENDS MEETING FOR WORSHIP

In our Quaker tradition, waiting on God in silence is at the center of our religious practice. In our worship we may find peace, strength and love to carry into the world. Quakers in Chico hold meetings in which there is no pastor or set order for our hour of worship; we all share in the responsibility for spoken ministry and shared silence. The leader is the spirit of God which is in and among us.

We make no distinction between the "ordinary" and the "sacred," believing God is to be found in every place and time. Our meetinghouse is not a consecrated space, but simply a convenient place to gather and worship together. Sit anywhere you like, but it is helpful to leave seats near the doors for latecomers.

Individuals who feel prompted by God's spirit may rise to speak, pray, or sing. Such contributions come out of the silence, and arise from that place where each of us meets God. Anyone may speak in Meeting: young, old, woman, man, first time visitor or "experienced Friend." Friends speak briefly and leave time between messages for their meaning to reach deeply into us. Since the purpose of our meetings is the worship of God, spoken messages are offered in the spirit of worship rather than as lectures or discussion. Anyone who wishes to share purely personal problems may find more help in a small meeting for worship especially appointed for seeking clarity and comfort.

A "clerk" is appointed to close the Meeting at the appropriate time by shaking hands. Afterwards, there is time for the children (who join the adults for the last 10 minutes or so of worship) to share what they have done in First Day School, for introductions, and for announcements. Please stay for refreshments and feel free to talk to anyone. Members of Meeting will be happy to answer your questions. Books, pamphlets and Quaker periodicals may be borrowed from the library, and a variety of leaflets are freely available. Please let us know if you would like to receive our monthly newsletter.

We are glad to invite you here to worship with us.

---
What to Expect in Quaker Meeting

Why I am a Quaker

How I became a Quaker

Do Quakers Quake?

Are You a Quaker?